Monika asked me to do a guest blogpost for minifeast that had something to do with Rhubarb.
Yes, of course I said! At your service, madam!
Luckily, there was rhubarb in my recent Bio Box a monthly delivery of vegetables and fruits that I subscribe to. I have been using Bio Box for over a year now and I couldn't be happier! I grew up with a big garden and I missed the seasonal and fresh produce here in the big city.
There are several types of boxes to choose from. Seasonal, organic, boxes for making juice, even boxes specifically created for mothers. You can select from three different sizes as well. You can even mention limitations like "I hate tomatoes!", "I grow carrots myself!" "I don't like any fruits whatsoever!".
What I really love about it is that it challenges me to cook with different ingredients and come up with new recipes every week. I've also received a few kinds of vegetables that I was totally unfamiliar with, so it has even expanded my taste.
The Bio Box comes every Tuesday morning, you can check what it will include on the previous Friday, and change it if you like (but I never do that!)
I love the serendipity of this service. I'm not very picky and I love getting up on Tuesday and see what the delivery man has left me.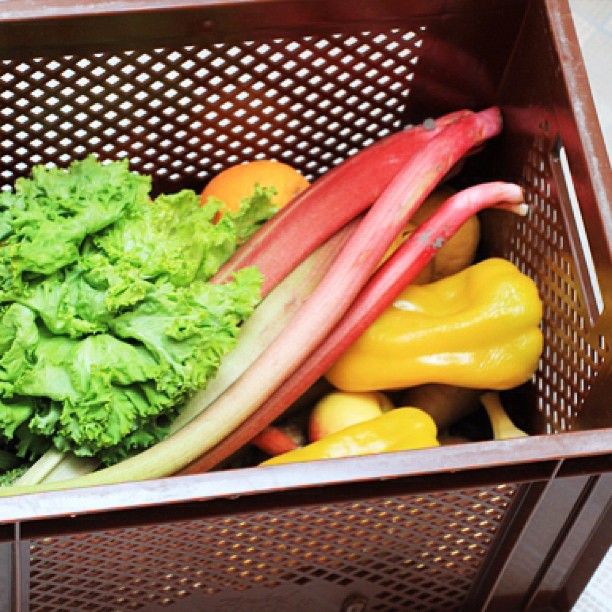 Well, this week I got rhubarb. I love both the sweetness and sourness of this fruit and I really don't like to spoil the taste by adding too many other ingredients or over-cooking it. So, with the first rhubarb of the year, I like to make crumble.
It's easy, delicious and done in 20 mins. I add raspberries because (in my opinion) they complement the sourness and sweetness of rhubarb, they also intensify the gorgeous red colour.
I came up with this gluten-free recipe myself and have even received compliments from a very harsh critic… aka my boyfriend!
Gluten-Free Rhubarb Raspberry Crumble
(Serves 2)

You will need:

 1 stem of rhubarb

 1 handful of raspberries (fresh or frozen)

 3 Tablespoons of brown sugar

 1 Tablespoon of butter (room temperature)

 About 30 g grated almonds

Preheat your oven to 200°C.

Cut the rhubarb into small pieces (the smaller, the faster the baking process), put them into a large bowl and add the raspberries and 2 Tablespoons of sugar.
In another bowl, knead the butter, the rest of the sugar and the almonds together with your bare hands. The warmth of your skin will help to combine them. The mixture should be well combined but still a little crumbly. Add some more almonds if you need to.

Spoon the fruit into two heat-proof forms and top them with the almond crumble. You may have to crumble it up a bit manually. Put them into the oven for about 10 – 15 mins. When the crumble has browned nicely, it's ready to eat.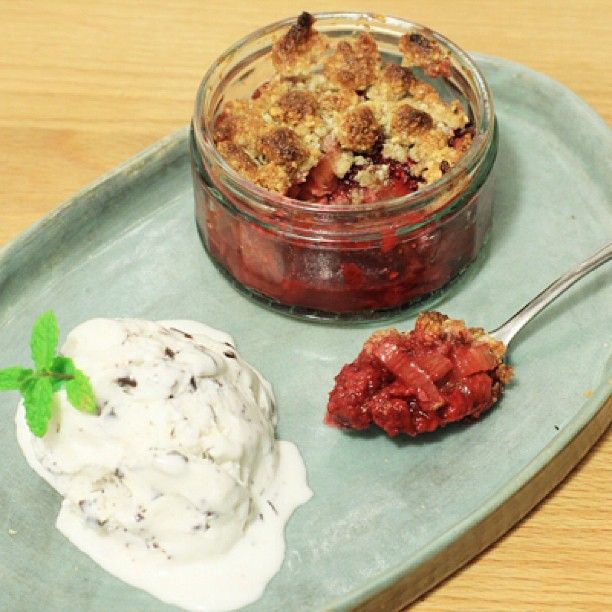 Warm with a little ice-cream on the side, is definitely the best way to serve this dessert.
Enjoy!