Do you remember chain letters from the time when we were little? The beauty of getting something from someone you didn't know? Some weeks ago, I'd signed up for "Post aus meiner Küche" which is a wonderful exchange initiative for enthusiastic foodies.
The idea is simple: Loving food and being curious what other people are up to in their kitchens. Jeanny, Clara und Rike thought there must be lots of others who think alike. They started an online platform they called "Post out of my kitchen". Here everyone could sign up, and the girls found a match to exchange homemade tastiness. To make it easier for the participating food-lovers, they always come up with a beautiful theme to dedicate your package to. "It tastes better together!" was the theme of the last exchange, which is why they tried to find people who live close by.
I was really lucky to get Ursula, who's the brilliant mind behind the blog Soap Kitchen & Style. As we both lived in Vienna (which I do not anymore, but more on that later), we were lucky enough to get to meet in person. Ursula is a highly inspiring woman, as she is absolutely hands-on and a tinkerer in her own way. She started her blog ages ago, because she got hooked on making soap. On her blog, she shares recipes and the joy she finds while cooking.
Ursula gave me this most amazing package filled with a focaccia mixture, lemon salt, spicy rub for meat, honey & mustard dressing for salad, apricot chutney and a lavender syrup which made me drink 5 liters of water that day. Her idea was to get me to BBQ with my friends. I, on the other hand, had this image on my mind, as I was thinking of what to make for this theme. I decided to make Spaghetti with basil & almond pesto for a dinner that Ursula could share with her friends. I will share the recipe here very soon, as it's one of the most delicious pestos of all times.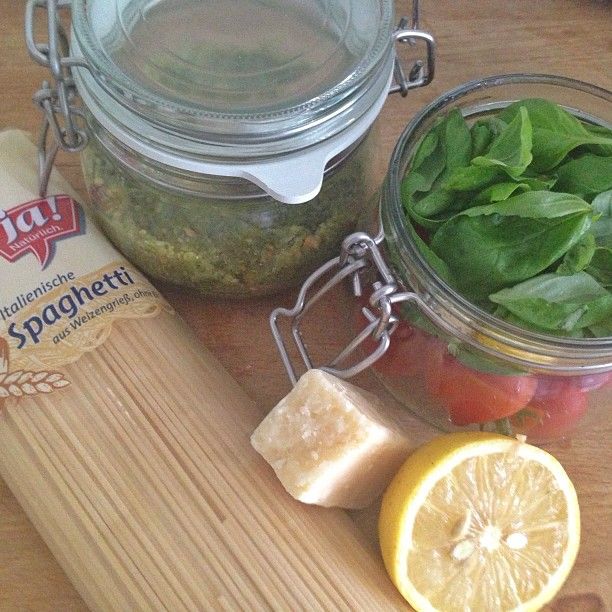 Now I know how PAMK really works and since I now have a fully-equipped kitchen, I am already looking forward to the next round!