As already mentioned, I've recently moved to Berlin. This is really amazing, because for the first time in ages, I get to live in an apartment with a fully equipped kitchen and an oven (!). For the last, I believe, 7 years or so, I always managed to move into places without an oven. For someone who really likes to tinker in the kitchen, it's something I'd call an ugly misfortune.
Another reason why I consider living here so pleasurable is because I finally get to live with other people again. My flat mates Lene and Bodo are real sweethearts and I am really happy things worked out the way they did. The greatest challenge stays the cooking: There are many things one or the other in our apartment cannot eat – due to choice, allergies, and intolerance-, so you'll get to read lots of challenging recipes in the future.
Now you've gotten a really long introduction to what the topic of today's blogpost is: It's Lene's birthday. As the girl is vegan and also a real sucker for peanut butter (can anyone blame her?!) her boyfriend and I made her a vegan banana cake with peanutbutter frosting, which she'll get as soon as she gets home tonight!
Are you also a sucker for this most delicious of all butters? Here is the recipe! Enjoy!
Banana cake with peanutbutter frosting
Ingredients for the cake

1 cup brown rice flour
1 cup barley flour
2 ½ tsp baking powder
½ tsp salt
1 ½ tsp cinnamon
1 cup cane sugar
¼ cup soy yogurt
2 ripe bananas
¼ cup unsweetened applesauce

Instructions

Hands on 20 mins, hands off 35 mins

Whisk and sift together flour, baking powder, salt and cinnamon and set the dry mixture aside. Take a second bowl and mash the bananas first. Then add sugar, soy yogurt and apple sauce and mix it either by hand or carefully with a blender. Slowly add the dry mixture and stir until you get a smooth dough. Pre-oil your baking dish and spread in your dough until it's beautifully smooth. Bake in an pre-heated oven at 200° for around 30 minutes. Check regularly.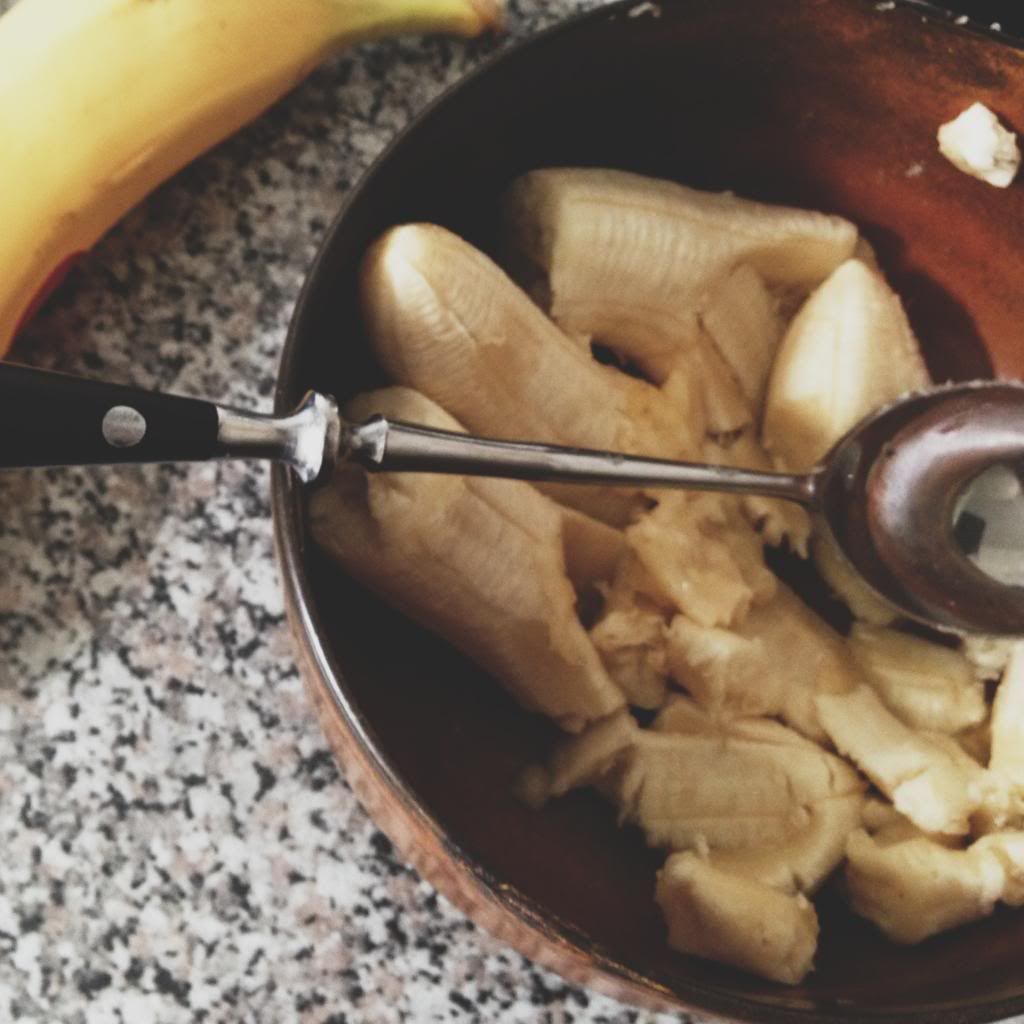 Ingredients for the frosting

1/3 cup silken tofu
½ cup smooth peanut butter
3 tblsp maple syrup
2 tblsp soy milk

Instructions

Hands on 10 mins

Beat all the ingredients together until you get a light and fluffy creme. Spread on the cooled down cake.
Enjoy and once again, happy birthday, Lene!